Salt Lake Photography
Looking for a Landscape and reflection photography workshop? You should take place in our Salt Lake photography tours!
Tuz Golu in Turkish, as understands from its name it is also a mineral source of salt. The second biggest lake of Turkey, occupying a huge area in the arid central plateau of Turkey, one and a half hours far away from Cappadocia. Despite its huge area (580 sq miles or 1500 sq kilometers) for most of the year is very shallow (between 0,5-1 meters), especially during dry summer months when the water evaporates in huge quantities leaving a thick crust of salt on the surface up to 30 centimeters. This salt is extracted, worked, refined, and sold in the local market, thus making this the biggest industry for small towns' economy in the area. It's not only the biggest Salt Lake in Turkey but one of the biggest in the world as well.
 At the sunset, you can find peace while you are watching the lake. Endless water merges with the skyline with a perfect reflection of the sky on the lake. It is dazzling! A very good place to shoot some reflection photos of subjects. The subjects could change according to your desire! A model, a ballerina, a horse, or horseman is some of the options! When to get together all of those components, the perfects conditions and environment for photographers who are looking for experience in techniques such as reflection photography and landscape photography.
You Will Learn Different Photography Methods
Because of the brilliant surface of the lake, the skyline of the sky and the lake look endless. This endless zone creates an amazing photographic view for photographers. Also the reflection of the salty water pretty shiny, even like a mirror! So it is the most suitable place you have ever seen to take reflection photos. A beautiful Anatolian horse on the water, with a shiny sunset in the background, is a really good photo concept to add to your portfolio! In our Salt lake photography tours, you can experience those terms listed below:
Reflection Photography
Nature Photography
Instead of horses, we can put some models, ballerinas, or any other different subject. That should change according to what you want, just say it!
Attend Salt Lake Photography Tours with Us!
 
For romantic hours with your partner or some fun times with your friends! And also to get very good landscape photos with our photography tours. Here the list of contents of our Salt lake photograph tours at the heart of Anatolia:
Cultural and geographical experience with amazing natural beauties of Anatolia.
Practices with our expert photographers creative techniques like landscape
and reflection photography.
LEARN DIFFERENT PHOTOGRAPHY TECHNIQUES WITH OUR SALT LAKE PHOTOGRAPHY TOURS
Salt lake photography tours package includes different workshops for photographers that focus on nature, landscape, and nature photography.
Reach Magnificent Views with Salt Lake
Salt Lake, so much that words cannot fit, that sentences cannot express. It is a beauty that you can greet with its unique, different, interesting and magnificent views.
Salt Lake is a Treasure of Rare Gems
You know, there are gem deposits that only exist in one or two places on earth? Salt Lake is also one of the most decent jewels with its rarity. It blows your mind by going white, sometimes blue, and eventually pink, red, and orange.
Salt Lake is the Mirror of Eternity
Tuz Gölü is actually still not discovered. Because Salt Lake is the mirror of eternity.
Salt Lake offers you extraordinary visual gifts by adding a few varieties of the existing to your view.
Salt Lake Blows Your Mind
You will see the Salt Lake and the magnificent beauties you see around you, and you will be amazed.
You think that you are looking at a mirror, not a water basin, a white beach with foaming waves and boats on it.
You Can't Hear or See the Waves in Salt Lake
On Salt Lake; you can't hear or see waves like sailing boats, adrenaline addicts surfing, speedboats squirting behind them, fishermen, musicians and artists playing and performing songs without stopping and colorful ships.
What you see in Salt Lake is really a second state of being.
Salt Lake Is The Biggest Mirror You've Ever Seen
Salt Lake is the biggest mirror you see on earth and in your life. Don't ask how? You really see a mirror from the lake, or a lake from a mirror: a lake with a variety of mirrors with flat mirror , concave in some places , and convex in a small part .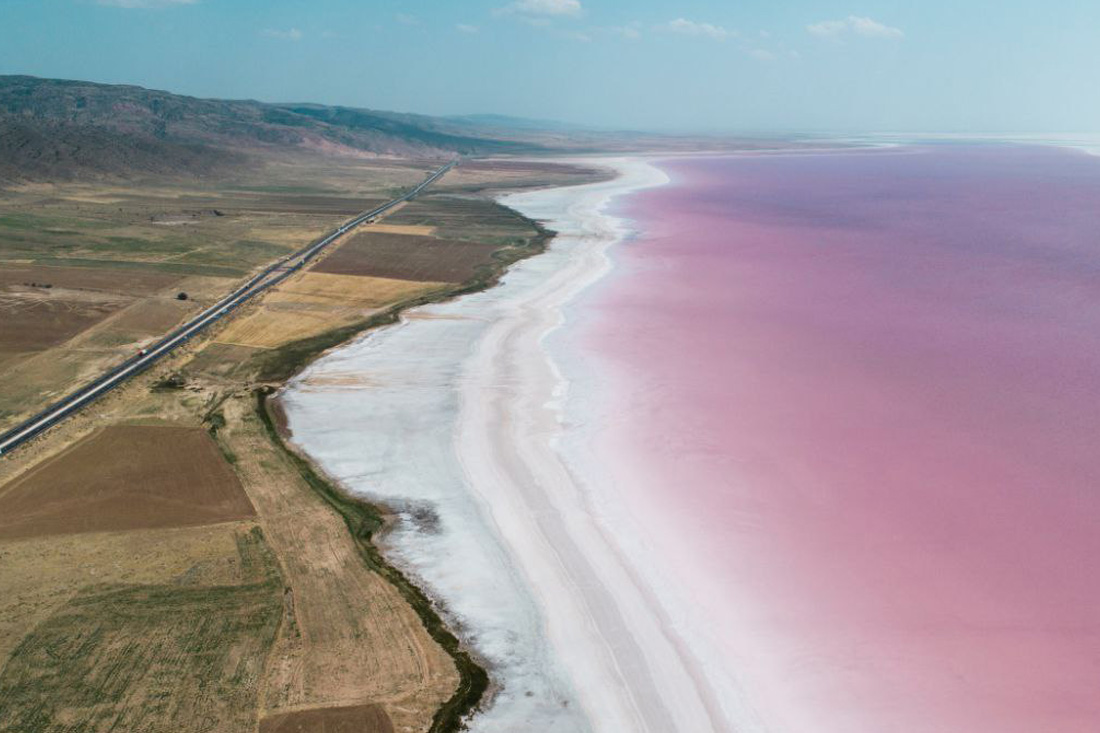 Salt Lake Unframed Painting
Salt Lake , you see that everything on earth and in the sky is standing on the lake like a frameless painting . There is an image of clouds, birds, planes standing on the lake, not in the sky.
Salt Lake, Bride in a White Wedding Dress
Salt Lake presents a very interesting and extraordinarily impressive painting with the image of a bride in a white wedding dress . This is such an amazing natural wonder event.
You Can Fly Wings Over Salt Lake
That is, you feel on the Salt Lake in a nothingness, an eternity and at the same time in between everything that exists. You get the feeling of flying over Salt Lake with wings on.
You Will Be Extraordinarily Surprised On Salt Lake (Pink Salt Lake Cappadocia)
On Salt Lake, you will enjoy the magnificent scenery, the silence and the peace, as well as experiencing the amazement of the extraordinary.
Salt Lake, Spectacular Habitat
Salt Lake is a treasure filled with precious jewels for everyone, especially photographers, with its magnificent habitat and visual feasts it offers.
Salt Lake Offers Spectacular Views
Salt Lake offers magnificent images of the most beautiful wedding dresses in the world for those who want to take pictures with its white appearance: In winter, she wears an ice blue wedding dress during the day, and an enormous pink and red wedding dress with a sunset view towards the evening.
You Can Be a Poet on Salt Lake
Salt Lake and its magnificent reflection on the water at sunset, you can even become a poet and gain the emotionality to write wonderful poems.
Earth and Sky Mix Over Salt Lake
Salt Lake and the sky, when they embrace and hug each other with the longing for a day, the sky and the earth blend together. You don't know where the earth or the sky is. You get the feeling that you are looking into infinity, lost in eternity.
Wonderful Moon View on the Lake Follows You
As you drive south at night, the wonderful moonscape, both in the sky and on the lake, faithfully follows you. You seem to be in an astonishing, inexplicable void.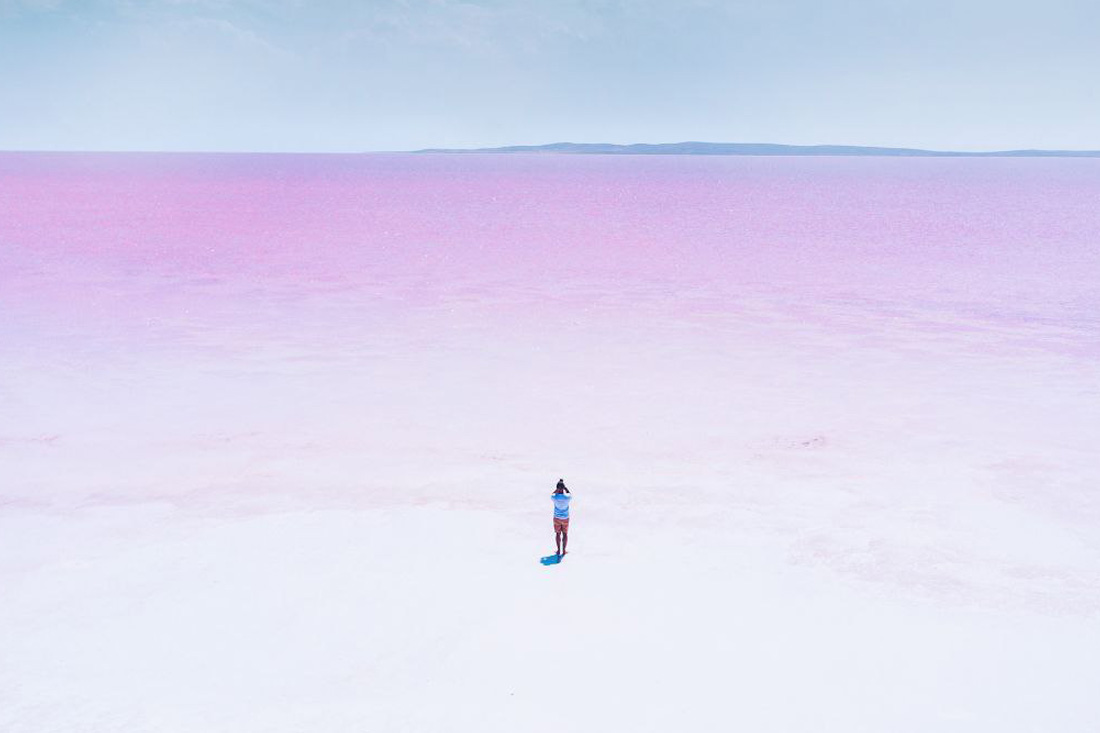 A Night Painting Welcomes You
As your vehicle turns from one side to the other along the curves of the road, suddenly a night painting greets you in the distance between pink and white, an indistinguishable mirror, reflection, illusion and reality.
Salt Lake A Vast Studio for Photographers
Salt Lake; With its wonderful landscapes, magnificent and unique beauties, it is a must-see studio and natural beauty for those who love to take pictures, selfie takers and professional photographers.
Take Unique Photos
Take off your shoes and walk on salt water to take unique photos and experience the rich scenery. Keep stumbling forward like a baby. Salt Lake gives a delicious massage to your feet, which are tired of years, thanks to its minerals, your feet will be soft.
Salt Lake Sunset Photos Are the Peak of Art
The shallow and still Salt Lake provides the opportunity to take the world's most interesting reflection photos from the peaks of art along with sunset photos.
You Take Reflection Photos You Wouldn't Believe
After opening and going further from the shore where people enter the Salt Lake, you come to the sections where there are no waves, albeit small. Here you can take incredible reflection photos.
No Time Limit to Take a Photograph
There is no time limit for you to take pictures while walking around Salt Lake. You can enter the day and time you want and stay as long as you want.
Salt Lake Colors Change Over Time
Salt Lake colors change in some time periods. Although it is blue in color with other lakes on the map, it turns turquoise blue in winter and white in summer due to its high salt content and ability to reflect light from algae species. Asli is a white geographical formation that differs up to various colors.
Salt Lake; White Ice Blue, Pink, Red and Orange
Salt Lake , which we are accustomed to white and ice blue colors and images , sometimes looks like pink, red and orange, is the tiny Dunaliella that causes color change. Salina describes it as algae.
Dunaliella, an algae that lives in salty areas in late spring Its color shifts towards red and pink due to the seaweed, which is the size of a pencil tip called salina.
Pink Salt Lake astonishes those who see it. Dunaliella It reproduces in Salina Salt Lake. Therefore, Salt Lake becomes pink and red. The transitions from pink to white, from white to pink and red create an incredibly beautiful image.
Always Encountered With Different Tones, Colors and Aspects
Whenever you go, you will encounter different tones, colors and aspects of magnificent landscapes.
You can take photos until sunset in the evening
Since the noon light is too harsh to take pictures, you can skip the noon light and take pictures early in the morning or in the evening until sunset.
Now let's talk a little bit about Salt Lake. Let's give information. 
It's located in the northeast of the pit surrounded by the Kızılırmak on the east, Obruk on the south, Cihanbeyli on the west and Haymana on the north, at the point where Ankara, Konya and Aksaray provinces meet in Central Anatolia.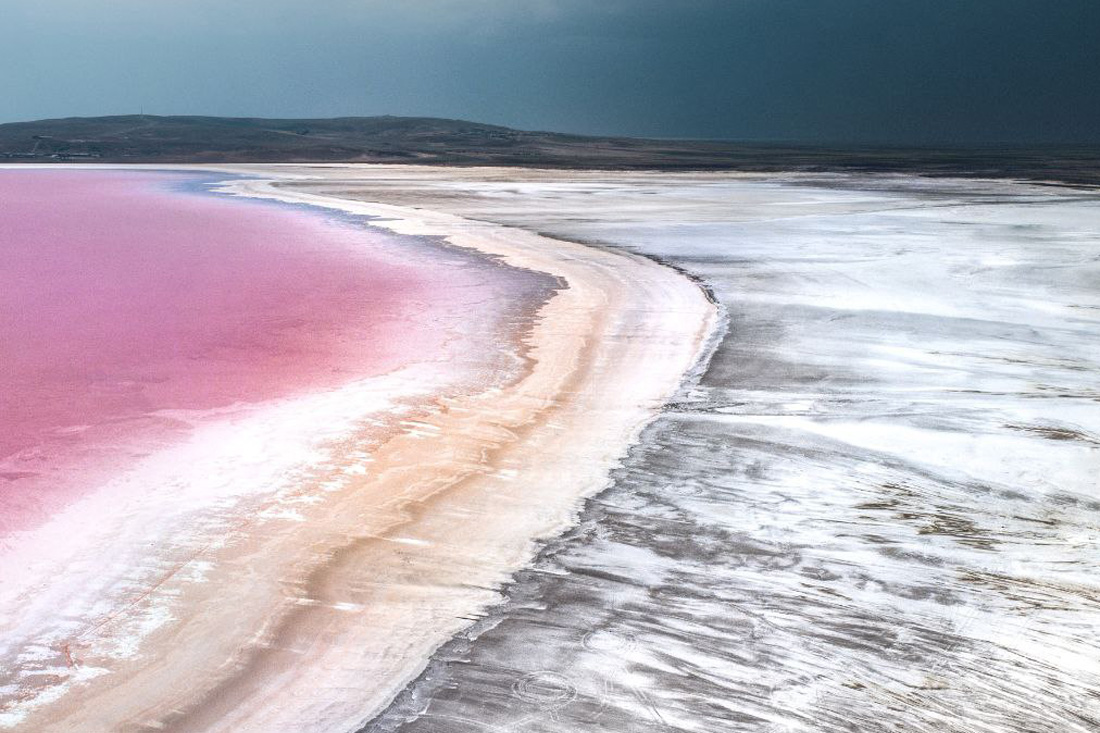 Geologically Tectonic Salt Lake
Geologically, the tectonic Salt Lake is the second largest lake in Turkey after Lake Van. Its depth is generally less than 50 cm. Despite its size, it is a shallow lake.
Salt Lake Was Formed by Tectonic Movements
Tuz Gölü is the lower part of the pit formed by tectonic movements in the tectonic Neogene between the surrounding plateaus, surrounded by faults.
Salt Lake is a Closed Basin
Salt Lake is a closed basin with a large precipitation area of 11,900 km² and poor nutritional resources.
It is in the Region with the Least Rainfall in Turkey
Tuz Gölü is in one of the regions with the lowest precipitation in Turkey, with an average annual precipitation of 324 mm/m².
Streams that bring water to the lake, Peçenek Stream, Melendiz Stream, İnsuyu , Karasu, Kırkdelik Streams decrease and dry up in summer.
In August, the lake is desert because it dries up
It is a desert as the lake dries up in August. In fact, local residents say that there is a natural road connecting Konya and Ankara in the middle of the lake, and that you can go on the lake surface when the salt layer remains on the surface.
Excess salt content deposits 30 cm of salt in the lake each year by evaporation.
Towards the end of summer, the salinity rate rises to 329 per thousand. Its chemical composition is that of kitchen salt. Sodium chloride is greater than the ratio of magnesium chloride and sodium sulfate.
Oligocene, which contains gypsum and salt layers, the shallowness of the lake and intense evaporation are effective in salinization and are among the causes of salt accumulation.
An Altitude of 905 meters
The lake, which is 905 meters above sea level, has an average water level of approximately 110 cm in May and 40 cm. Its length is 80 km, its width is 50 km. Its surface area is 1664 km2, its catchment area is 18630 km2, and its coastline is 522 km.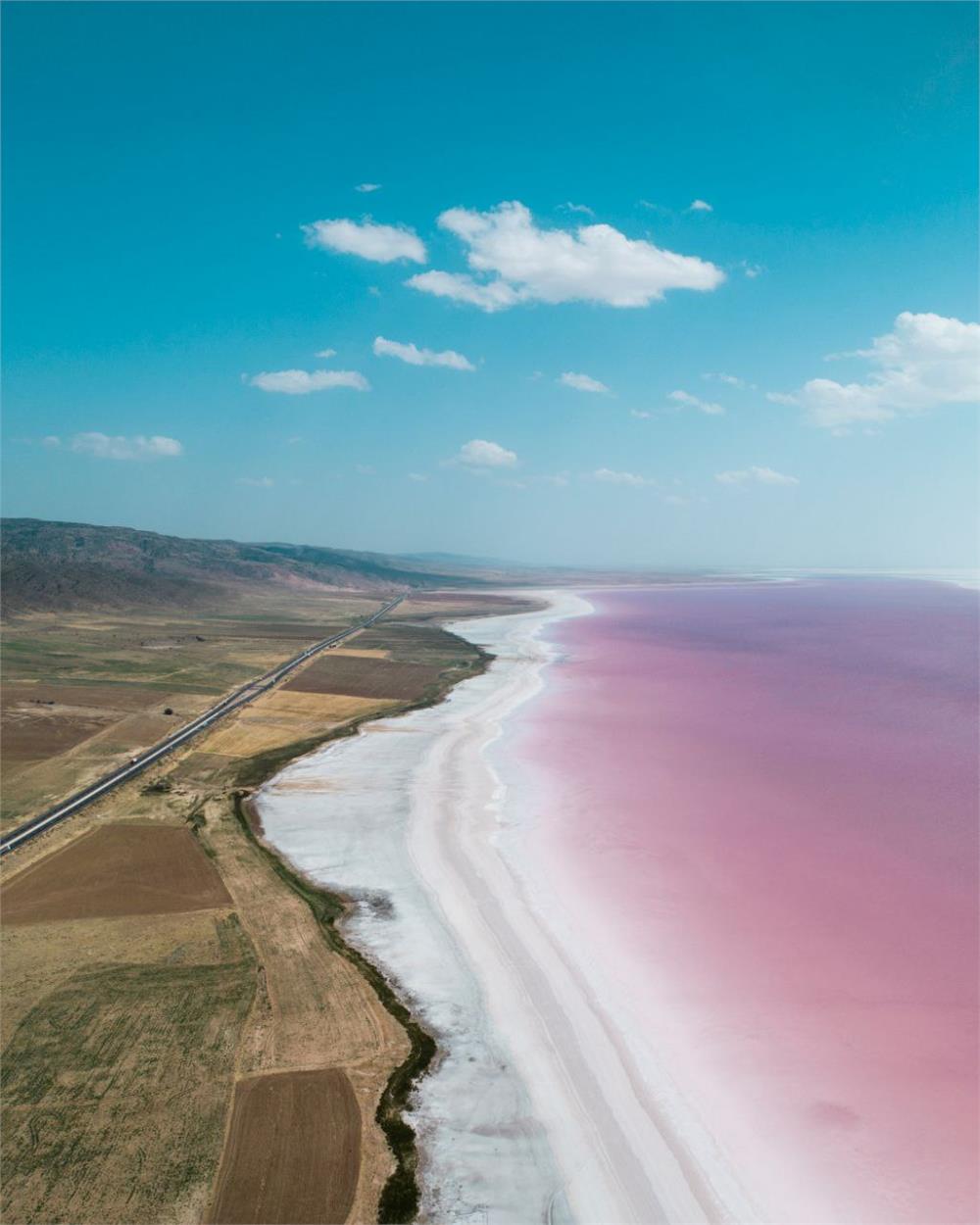 Salt Lake Winter for Waterfowl
Salt Lake is the second largest main breeding ground of flamingo colonies and Sakarca goose. In winter, it forms a winter shelter for waterfowl with its large water area.
Salt Lake Doesn't Freeze in Winter
Flamingo, aardvark, stucco, plovers, cranes, wild geese, wild ducks live together in this lake, where they adapt to the salty environment. They feed in puddles, pastures, cultivated areas, and swim in the frozen lake in winter.
Birds Hatch in Spring
Angıt, Çamurcun, Kılıçgaga, Biggöz and seagulls brood on the islands and marshes in the lake in spring.
The lake is home to salty steppe and endemic species and ecologically sensitive plant communities.
Salt Lake is a Home for Flamingos and Many Bird Species
Salt Lake; Along with Tersakan, Düden, Bolluk, Eşmekaya , Dog, Akgöl, it is a home for endangered flamingos and many bird species in Europe.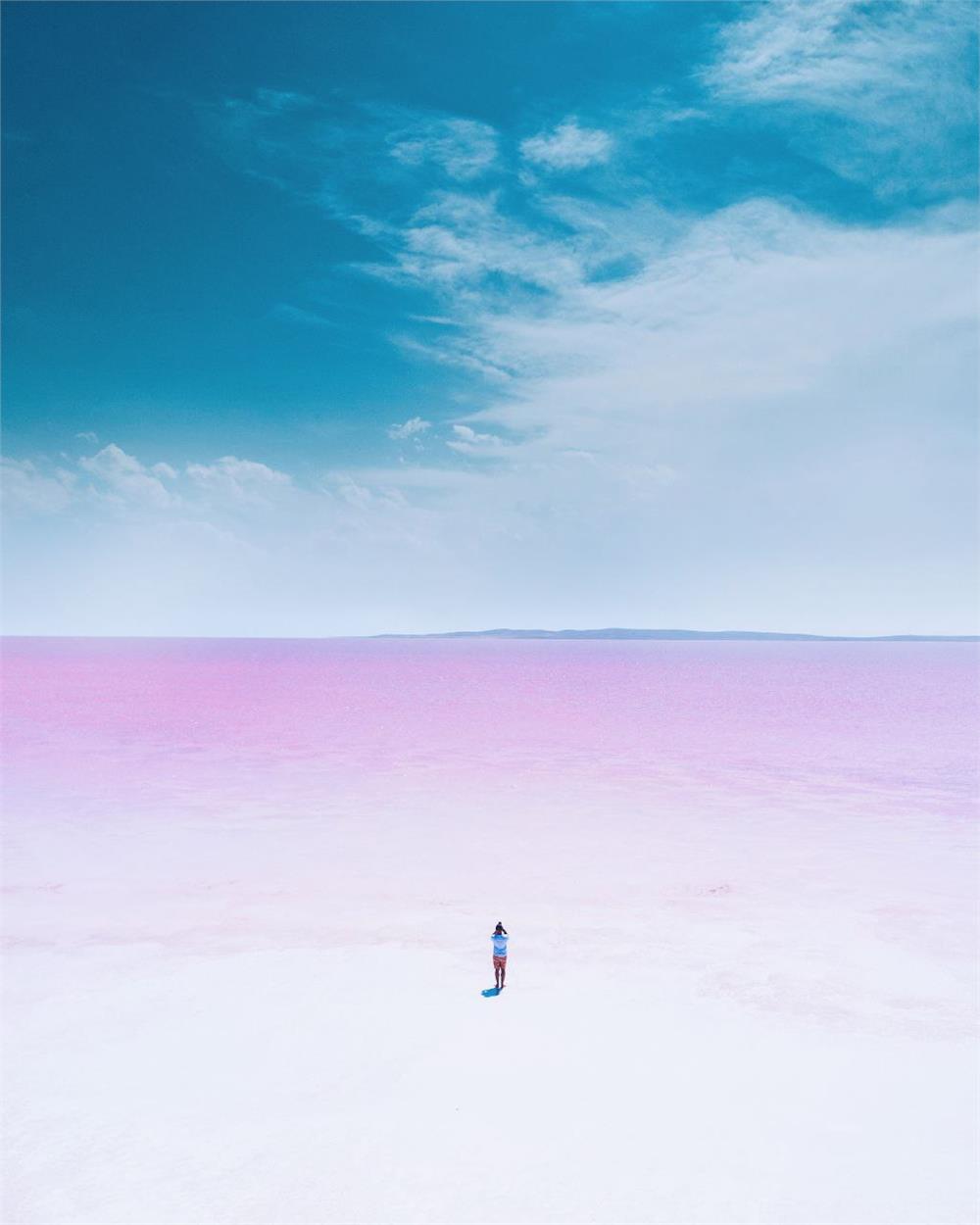 Salt Lake is a Rich Lake for Natural Life
Salt Lake is a very rich lake in terms of natural life. This is a region where many bird species are seen, as well as the fact that the plant life is almost zero due to the salt content. It is the largest incubation and habitat of Flamingo birds, especially in Turkey. How wonderful isn't it?
Giant Hatching Colonies of Flamingos
Salt Lake, the most important hatching area of flamingos, embraces giant brood colonies, each of which consists of 10 thousand nests, in the middle parts.
It is one of the most important breeding grounds of the Flamingo in the world, although it is difficult for life other than single-celled organisms.
On the UNESCO World Heritage Tentative List
Especially with its visual shows, it meets the needs of shelter, wetland and breeding areas for flamingos, cranes, wild ducks, migratory geese, sword beak and angut birds. Due to these extraordinary differences, it has been included in the UNESCO World Heritage Tentative List.
Largest Flamingo Breeding Colony
The lake is also the most important breeding ground for flamingos in Anatolia. In 2012, the Nature Association determined that 20,275 flamingo chicks hatched from the air. This was the largest known flamingo breeding colony in Turkey to date.
Salt Lake is Important for the Continuation of its Biodiversity
Salt Lake, which is part of a large ecosystem with smaller lakes such as Tersakan , Bolluk, Düden and Akgöl, is an important area for the continuation of its biological diversity, where many bird species breed. It is also protected as a 1st Deree Natural Protected Area. Nearly 85 bird species, 15 mammal species, 130 insect species and nearly 40 endemic plants live in and around the lake.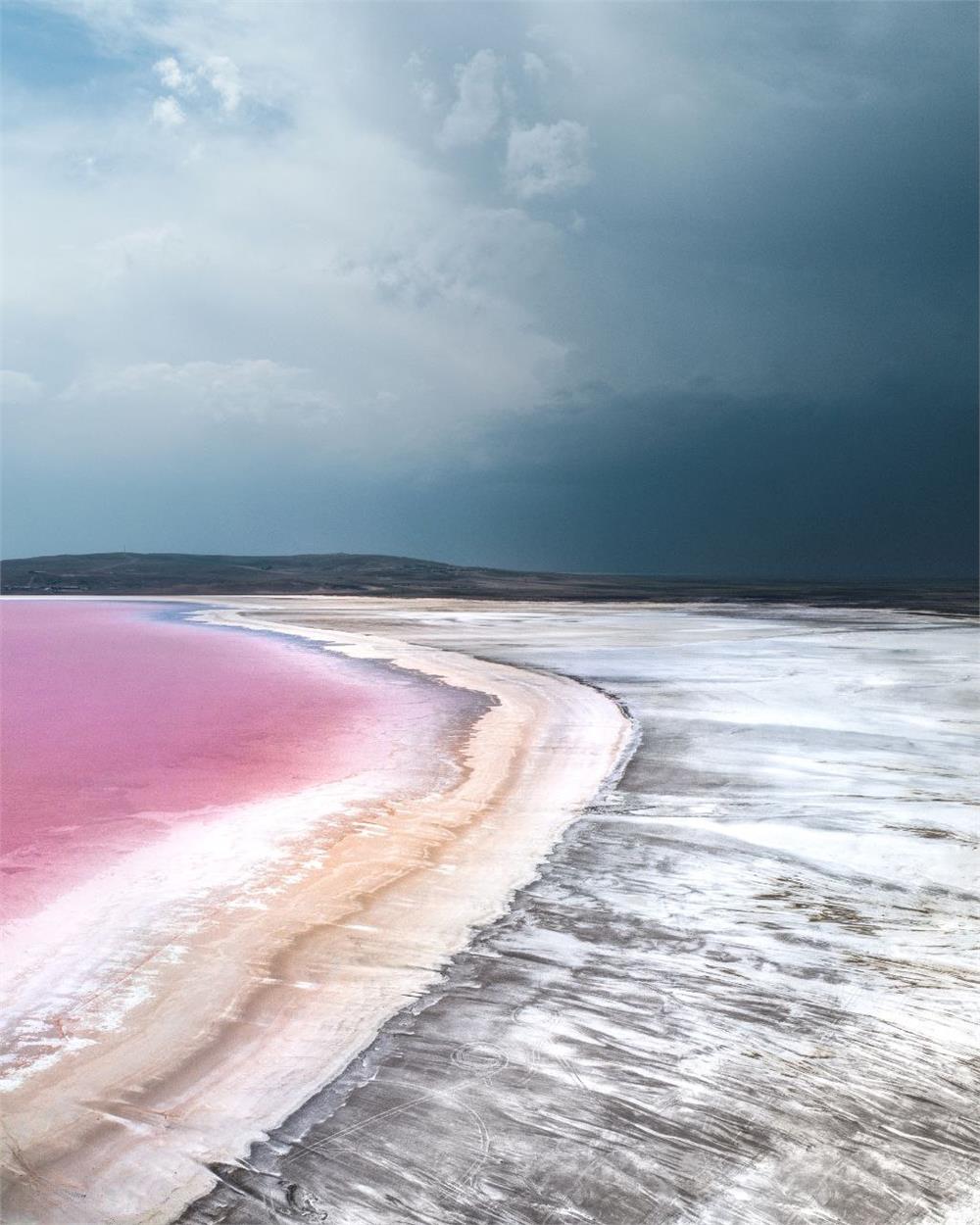 A Paradise for Birdsg
Also see golden plows, sword-billed hummingbirds, wild geese, flamingos, red bowers and pike cranes flying in groups. The lake, whose shores are mostly uninhabited, is also a paradise for birds.
Habitat of Endangered Flamingos in Europe
They can swim as they wish in the lake, which does not freeze even in the harshest cold of winter, and they can incubate on the islands in the lake in spring. In the lake, which is the habitat of endangered flamingos in Europe, you can come across brood colonies, each of which consists of thousands of nests.
Salt Lake Is Getting Smaller Every Day
Tuz Lake is getting smaller every day, the ecosystem here is one step closer to extinction.
Salt Lake, which has a unique geological structure, has 1,000 meters of continuous salt layers. This layer provides continuity in salt production.
Salt Lake (Cappadocia Pink Lake) Class A Wetland in International Criteria
Salt Lake, which has an importance and duty in protecting biological diversity, is a class A wetland in terms of international criteria. It is a tremendous difference that Tuz Gölü provides a habitat for approximately 90 bird species, 4 endemic, nearly 130 insects, 15 mammals and 40 endemic plant species.
The Unique Ecosystem Around Salt Lake Should Be Conserved
Contributing with the Specially Protected Areas Authority ( ASPA ), the World Wildlife Found ( WWF ) aims to protect and improve the unique ecosystem around Salt Lake .
First Degree Natural Site
In the spring when precipitation is abundant, the lake area expands to 165 thousand hectares. Salt Lake, registered as a First Degree Natural Protected Area, is also a Special Environmental Protection Area.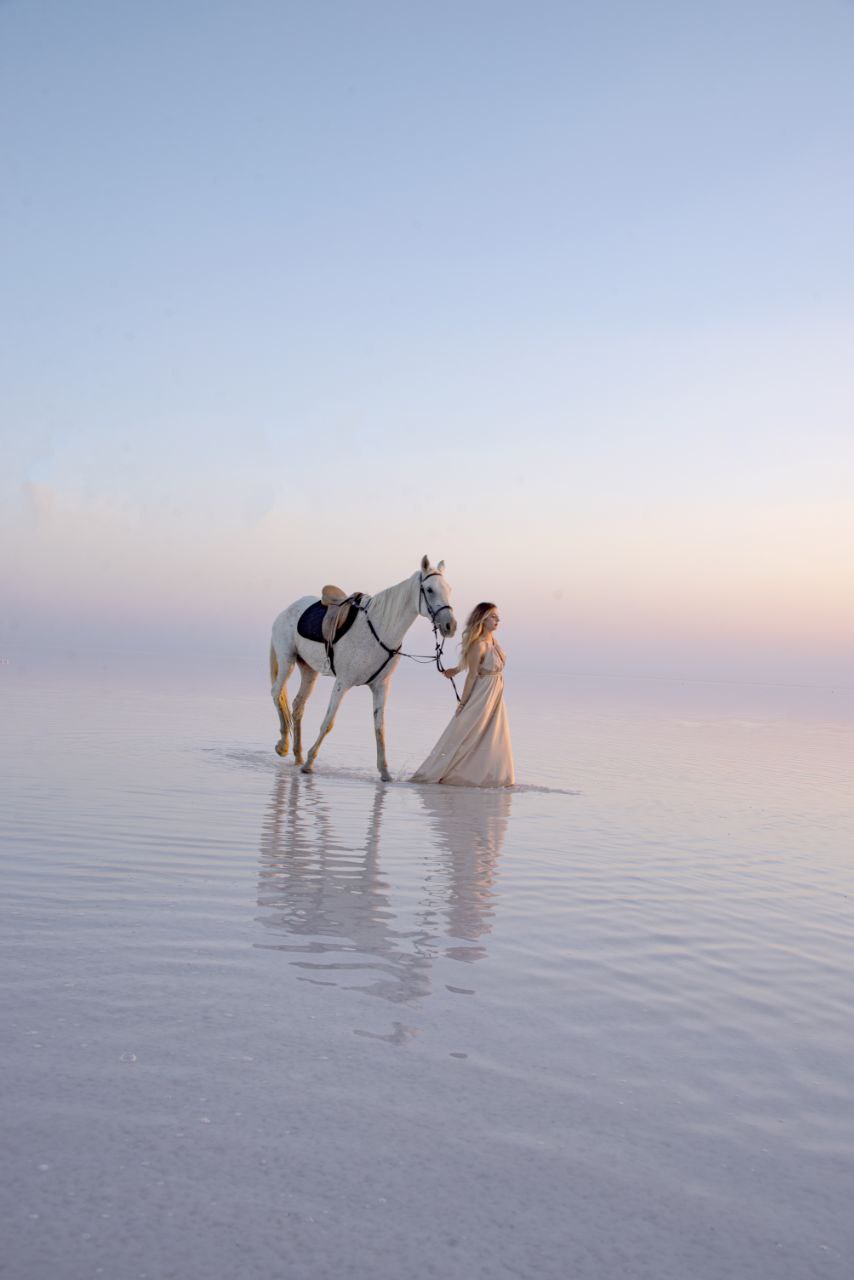 The Salt Rate in the lake Was Measured as 32.4 %
The salt rate in Tuz Gölü, which is the second saltiest lake in the world, was measured as 32.4 %. Therefore, the high level of salt gives life to weak saline flora and a small amount of salt-resistant vegetation.
The most important economic activity in the surrounding area is agriculture and animal husbandry.
Salt Production with Solar Energy
In addition to the crystallization of salt by evaporation, the pooling system is also preferred in the production of salt with solar energy.
Salt Lake has an interestingness unlike any other lake.
Salt Lake More than Half of Turkey's Salt Need
Located 120 km south of Ankara on the way to Cappadocia and also called Tatta in ancient times, Salt Lake is a salty lake that covers a large area in Turkey's arid central plateau and provides more than 60% of the country's salt needs.
Salt Harvest Takes 3 Months
As the lake dries up in the summer, salt is harvested here. The harvest season lasts approximately 3 months. During this period, the salinity rate in the water-covered part of the lake in a very small part reaches up to 33%.
Second after the Dead Sea
In terms of salinity, it is in the second place after the Dead Sea in the world.
Salt Shining White under the Sun
Since there is no water in the lake in summer, you can see the white shining salt under the sun. While the hot steppe summers of Central Anatolia turn the region into straw yellow with wheat fields, Salt Lake stretches to the south on your right with a pink and white color.
The lake occupies a "tectonic depression" and is fed by two main streams, but has no outlets.
Salt Lake is Important for Health Tourism
Salt Lake is of great importance especially in terms of health tourism. It also responds to the needs of many people who want to find healing because of the minerals it contains. It is known that with more than thirty health and cosmetic materials such as mud masks and cream obtained from these minerals, skin problems such as acne, eczema and fungus can be prevented, and good results are obtained in problems such as headaches and hair loss.
Source for Those Who Walk Barefoot on Salt Lake
More than 20 kinds of minerals in the lake, mainly sodium chloride, iodine, potassium, magnesium, calcium, bromine, hydrogen and iron, are a source of healing for those walking barefoot on Salt Lake. There are scientific explanations that it benefits the treatment process for foot odor, eczema, fungus, rheumatism and joint pain.
Mask, Acne and Massage from Salt Lake Minerals
Salt Lake minerals, especially masks made of lake mud, acne and massage creams , medicines against headaches, shampoos to prevent hair loss, have become one of the frequent destinations of visitors.
Olive Oil Sun Cream that Removes Sunspots
The salt of the Salt Lake, which is made of various health materials from its water, salt and minarets, removes dead cells from the body and revitalizes them. Sun cream with olive oil, which removes blackheads and acne, enriched with lake water and minerals, with snail extract, removes wrinkles on the skin and removes sun spots, is produced.
The Demand for Health Products Originated from Salt Lake is Constantly Increasing
It removes bad odor, eczema and cracks on the feet, as well as treats joint pain, cramps and occult; massage cream, shampoo that prevents hair loss, bath soap and bath salts that relax the body in the shower are produced and take their places on the shelves of the sellers. Local vendors say the demand for health products produced from Salt Lake sources is constantly increasing.
You can see that natural products make your hands and feet soft in a very short time.
Salt Lake is also one of the largest hypersaline lakes in the world.
Salt Lake(Pink Lake Turkey) Legends
Two legends about why the lake is made of salt have survived to this day and are not lost on the tongues:
Nasreddin Hodja, the wise trainer of Anatolia who makes people think, gives lessons and guides with jokes and jokes . Nasreddin Hodja dropped his salt shaker into the lake here. After that, it became Salt Lake.
it is clearly known that Nasreddin Hodja lived in the 13th century and that the lake is a part of the Tethys Sea that has survived about 500 million years ago, this could be a Nasreddin Hodja joke. Could it be that Nasreddin Hodja said "count 500 million years if you don't believe it"?
According to this legend, there was a vineyard belonging to an old woman in ancient times in the area where Salt Lake is located. One day, a dervish who passed by the vineyard and envied the grapes asked the owner of the vineyard for a bunch of grapes from the stingy old woman. In order not to give grapes, the old and stingy woman said, "My vineyard has dried up this year, I did not buy grapes" and did not give grapes to the dervish. The dervish, who did not believe the words of the stingy woman and was upset, cursed "let your vineyard be salt". The stingy woman's entire bond immediately turned into salt.
There is a Salt Museum
There is also a Salt Museum in the area. Even if you go by private car, it is possible to reach the "Salt Museum" by following the signs for Şereflikoçhisar.
Salt Museum sign is located, there is no "museum" as we know it. In the shops arranged to sell mostly souvenirs; Numerous products made from salt minerals are sold, such as salt, salt lamps, creams, shampoos.
Alternatives to Go to Salt Lake (Lake Tuz Cappadocia)
You can go to Salt Lake by buses from Ankara AŞTİ to Aksaray. Salt Lake is also known as Salt Lake Ankara.
The Distance Between Ankara and Tuz Gölü is 150 Km
The distance between Ankara and Tuz Gölü is 150 km. Ankara Esenboğa You can arrive at the airport or the center in approximately 1.5 hours by your private car or by renting a car.
Ankara-Konya road , you should follow the D750 highway on the Konya, Adana, Gölbaşı side . You can go to Şereflikoçhisar and from there to Salt Lake with the direction of the signs.
The Distance Between Konya and Salt Lake is 170 Km
Konya and Salt Lake is 170 km. From Konya Airport, you can reach Cihanbeyli by turning right at the Konya junction with a private car , and following the signs, you can arrive in 2 hours.
Must See Salt Lake While You're in Cappadocia
Visitors, guests, travelers, tourists, photographers, painters, filmmakers, nature lovers and others coming to Cappadocia, one of the most magnificent geographies of the world, we have a very valuable advice for you: When you come to Cappadocia, you should definitely see another magnificent geography of the earth very close to here. . Otherwise you will really regret it.
Salt Lake The Starting Point of a Wonderful Geography
Salt Lake , which is said by those who see it for the first time, 'Is there such a place in Turkey', is like the starting point of a wonderful geography that you should see before coming or going to Cappadocia. When you open the Salt Lake Gate, a crystal, white, salt realm welcomes you.
Salt Lake from Cappadocia, Only 1.5 Hours by Car (Salt Lake Near Cappadocia)
Salt Lake is just a little over an hour's drive from Cappadocia . When you leave Göreme to reach Salt Lake, you will reach it with a comfortable 1.5-hour journey. Those who come to Cappadocia should definitely see Salt Lake.
Even if there is no Cappadocia-Salt Lake tour, you can rent a car from travel agencies in Göreme and follow Derinkuyu Underground City, Ihlara Valley to arrive at Salt Lake.
As you get closer, you will see the beauty of the lake. Park your car anywhere you want on the edge of the quiet lake area.
Go Towards the Sunset
Walk into the lake at the beginning of the salt flats. If you set your time to go towards the sunset, you will see that the lake, which was white in full sunlight, turns pink. After a while, enjoy the reflections of pastel vitality in the sunset.
You will watch with interest the beautiful play of purple and orange colors reflected in the shallow, motionless lake a few inches deep.
You will walk on a salt with the character of pure salt, kitchen salt.
Dead Sea and come to Cappadocia should definitely visit Salt Lake. He knows that the products they buy in the Dead Sea and the products here are the same and they heal.
Tourists come to see Salt Lake, take a walk on the lake, watch the sunset, take pictures and buy health products.
Attention Professional Photographers
If you are looking for workspaces for landscape and reflection photography, Salt Lake is the perfect studio for you.
You Work and Rest
Watching the lake at sunset, the endless water, the reflection of the sky on the lake, the meeting on the horizon, while dazzling your eyes, relaxes your soul and gives you peace. You both work and rest.
Salt Lake Reflection Photos
You can take reflection photos on all kinds of subjects in Salt Lake, and you can bring your models and place the subjects you imagine in the photo frame.
You Can Learn Different Photography Techniques
You can work with photographers who are experienced in reflection photography techniques and learn different photography techniques.
Great Photo Opportunities for Photographers
On the bright surface of the lake, the sky and the endless silhouette of the lake offer great photo opportunities for you photographers. The mirror-like reflection of the salt water is a unique place to take reflection photos on water, especially at sunset.
You can enrich your photography activities with Salt Lake.
Salt Lake ; You can also enrich your reflection photography, nature photography, landscape photography and equine photography activities.
You Can Even Film On Salt
In fact, the best activity to do here is to walk barefoot in the endless whiteness. Even if you walk for miles, the depth does not go above your knees. Maybe even clip on salt.
The lake is a rare blessing, not for swimming or sailing, but for walking from shore to shore and taking lots of pictures.
Salt Lake Attracts Bird Watchers and Nature Photographers
Salt Lake, located on bird migration routes, has managed to attract bird watchers and nature photographers.
Prefer When Flamingos Hatch
If you want to do bird watching; Take the necessary and appropriate equipment such as binoculars and a telephoto camera with you, and choose the time when flamingos come and brood.
Home to Many Animals
Due to its beauty and being on the migration route, it is home to many animals, especially birds.
Salt Lake Flamingo Paradise
Also known as flamingo paradise. If taking bird photos is your hobby, Salt Lake is one of the most beautiful landscapes for you.
Bring slippers when you come, salt masses can hurt your bare feet. Bring sunglasses. You can get burned right away by the sun's rays, apply sunscreen. If you want to protect your clothes, go with shorts, take spare clothes with you.
Tag: local life, photo tours, nuri çorbacıoğlu, wild horses, cappadocia photo tour, fairy chimneys, walking on the water, aerial view, young woman, lake tuz golu, beautiful young, aksaray turkey, 40 of turkey, salt lake tuz
We are hosting our guests from all over the world for Salt Lake Photo Tours. Some of these countries include  
Malaysia,
 Indonesia,
England,
United States of America,
Singapore,
India,
Canada,
Philippines,
South Africa
Written by Nuri ÇORBACIOĞLU
E-mail:

[email protected]


Instagram: @nuricorbacioglu
WhatsApp: +90 505 469 33 59
Cumhuriyet Mah. Atatürk Blv. No: 70/4 Ürgüp
Nevşehir – Turkey

 

Equine photographer Nuri Corbacioglu is a specialist in this field.
He is known as Yilki horses photographer and is one of Turkey's most well-known photographers in the wild horse genre.