The Historical Culture of Anatolia: Wild Yilki Horses
In the center of modern Turkey and Anatolia, there is a historical value to us from our ancient history. For ages, a few people were aware of them. Today, the whole world be going to know about them. The free and wild Yilki Horses of Anatolia! The feeling of run between them, photographing them, or just watching them when a warm wind caresses your face could not be explained with words! Just imagine more than 300 wild horses running and shaking the ground! It is not a film set, it is not a documentary! It is a very real experience for everyone to live!
Most Valuable Components of Anatolian Culture: YILKI HORSES
Yilki horses are living in the middle of Anatolia for ages, their population was higher than that years ago. However, some of them tamed by the people, some of them spread the other areas in near and today there are about 300-350 wild and semi-wild horses. It is a special horse breed living just in Anatolia. For Turkish people, horses have always been important. Even, according to some sources, the first horse tamed by a Turkish clan. After that Turkish people lived on the back of the horses for a long while. From these days to today, the importance of horses never diminished for us. Horses are still our spirit animals!
Today in a small village of Turkey, these beautiful creatures living in their wild and free environment. Trained cowboys gathering them together to make special shows for visitors and photographers. It is one of the best places on the planet for equine photographers! You can shoot 300 horses in just one frame! Or you can shoot 300 different horse portraits! With pure whiteness of the snow in winter, with a huge dust cloud in summer or in the waters in spring!
Let's Arrange Your Place at Yilki Photography Tours
One of the best places to watch wild horses free and wild living and wild horses photography! You will be regret not coming before! You can book your place for our amazing photography tours at the heart of Anatolia with a unique view of Yilki horses.
We can also help you with your video, film, documentary organizations at this beautiful place. Fixer in Cappadocia provides video and film production services in Cappadocia to international networks of film, art, image, photography and documentary producers, agencies, companies, artists and media organizations.
You can see below the Mercedes trucks commercial film, in which we have undertaken the fixer and line production business.
Cappadocia's Wild Horses, Free Horses of the Earth!
Just like children always feel safe around their mothers and have a blast and run and play, jades, which take shelter at the foot of a mountain and run left and right, give excitement to their viewers with their magnificent images, togetherness and solidarity.
Wild Horses Cappadocia Provide a Visual Show 
As we are excited about every moment of the stars we admire, on stage, on the field and on the screen, jades offer a complete visual show to their audience.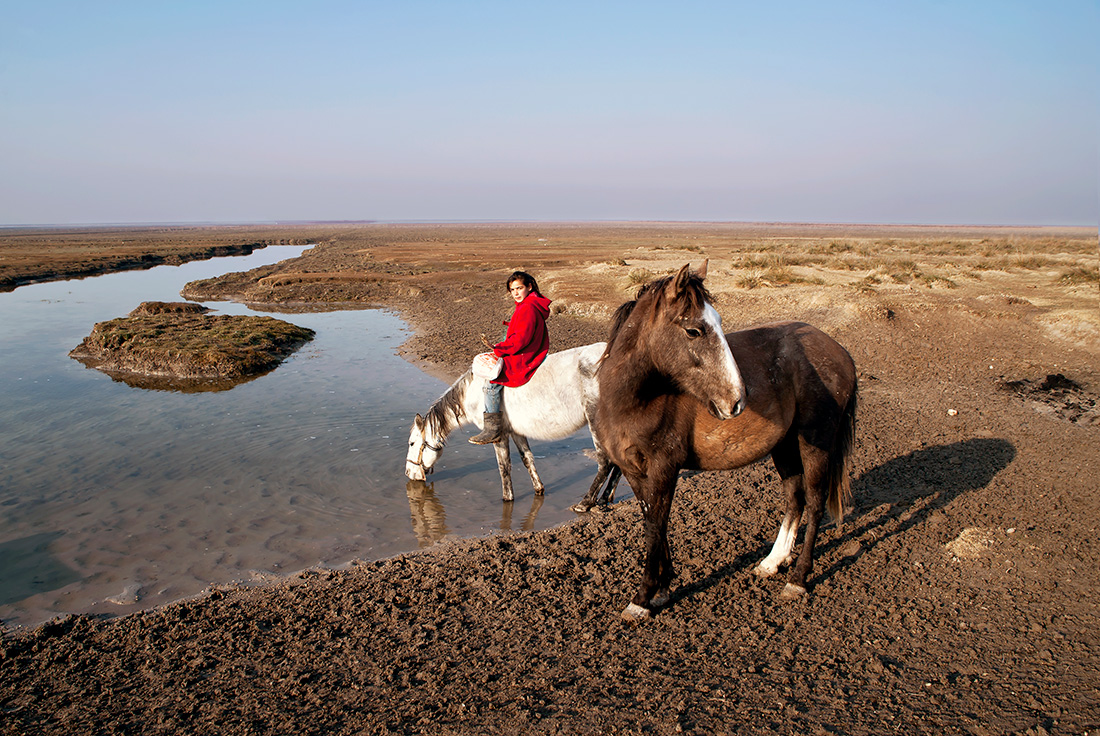 Wild Horses Run like Dancing
Just like the magnificent performance of a star musician on the stage, you can see the excitement wave created by the rising and falling of their voices to marvelous levels while jades run like a dancer.
Wild Horses Turkey are Like Sportsmen with their Movements 
If the agile movements of the football star, the rugby player, his endurance against the interference of his opponents, his dribbling and running like the wind make you excited and delight, the jade horses go hand in hand with the star athletes with their every move.
The stance, look, attractiveness, charisma and every move of the artists and actors on the podium and on the screen create the same effect and excitement for the horses of the year.    
What are these jade horses compared to stars, athletes, artists?
In Turkish, it means a horse that lives free in its own environment, free horses of Anatolia, free wild horses in nature, horses that are left in the wild and released into nature. It is a word that can be used in the sense of untamed.
It can also be said that the word jades is used in Uyghur Turkish, Divân-ı Lügati't-Türk, Orkhon Monuments and Dede Korkut Stories, with a meaning of horse herd. In Dede Korkut Stories the hero says to his horse, which remembers and shows affection to him: I cannot call you a horse, but my brother, you are even more than a brother to me.
Horses Cappadocia are Lost Horses
Perhaps the most meaningful definition that can be made for the jades is the lost horse.
Horse and human friendship has a history of about 35 thousand years.
The companionship, companionship and companionship of the horse is different. The horse carries freedom, innocence and loyalty for man. 
Yilki Horses are a Matter of Wealth
It is believed that the horse was created from the wind, that the speed of the wind passes to the horse, and that the horse is beings from the sun. The horse that changes and transforms the world with its speed and power; He shortened the distances, made the impossible easier. A horse flies like a bird, does not tire, senses danger, warns its owner. The horse is security and wealth. 
Yilki Horse is Green's Assurance
Its strength, adaptation to the climate and speed have brought social, cultural, artistic and literary developments to humanity. What it eats is pruned, revived and fertile. The horse is the guarantor of the greenliness.
Equine-assisted treatments can solve the problem, have health and positive contributions. The horse develops observation ability, sense of responsibility, compassion, self-confidence, motivation and concentration.
The horse uses body language, emotions, desires, love and hate very well.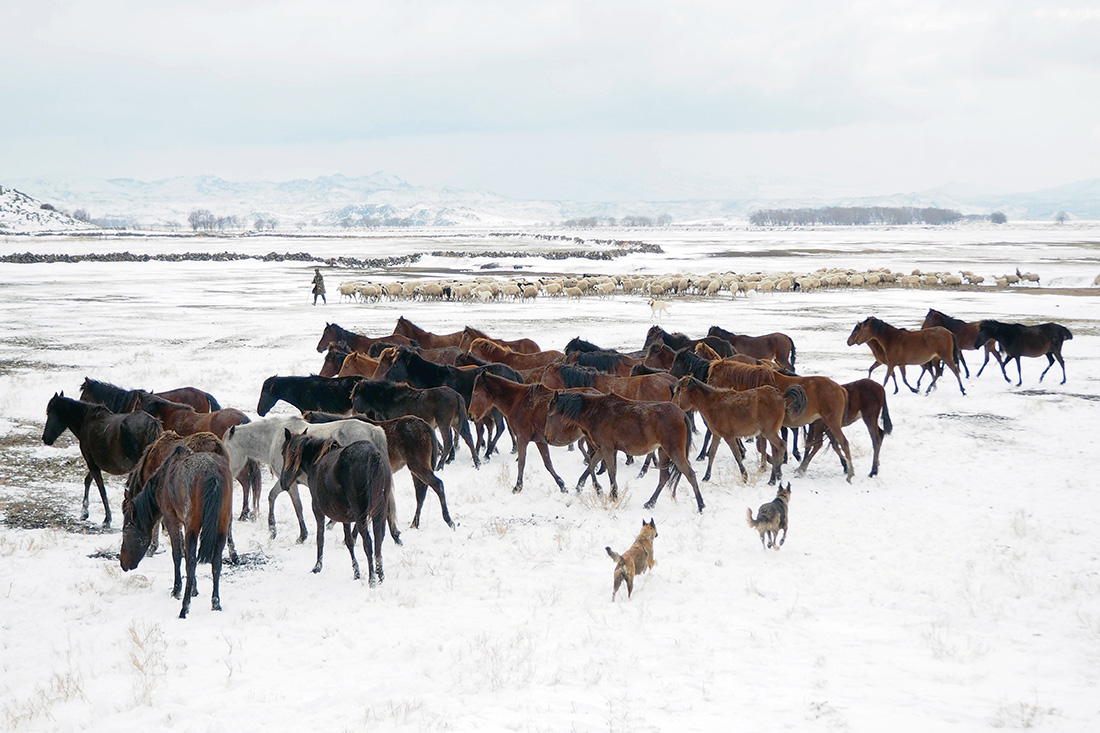 Yilki Horses are Loyal Beings
Horse is one of the power sources of Anatolia. Yilki horses are a different class of horses that have won wars, brought civilization and traveled far and close. As such, they are loyal assets whose owners leave them throughout the winter due to their uselessness and free to spend in the winter, and if they survive, they take them again in spring. 
Yilki Horses, the Symbol of Freedom
The life stories of the Jades, the symbol of freedom, in the mountains and under the snow are transmitted from language to language.
Yilki Horses, Back To Back With Their Friends
Despite their sadness, jades, whose owner does not want them but still are strong, manage to survive by learning to protect themselves and their friends from wild animals by standing back to back with other friends. Just like the eagle's ordeal for rebirth, he finally got a taste of freedom. 
Jades Even Support their Unfaithful Owners
Jades continue to support their disloyal owners. Although they retire from agricultural work, they benefit the modern world with their skills as they cross difficult terrains easily. Tourism, horse riding, daily walking tours in nature, hippotherapy have been for more than 5 thousand years, such as close friends living in the same house with people, providing spiritual healing support to people.
Yilki Horses are the Centennial Tradition of Anatolia
Jades are the last members of the Anatolian tradition that comes from beyond the centuries. The wild horses, which live freely in nature as a community, have maintained their identities alive for thousands of years.
Imaginary Jades are Real Now
Once inaccessible and unseen, jades are now looking right into our eyes in the mountains closest to the cities.
Yilki Horses Still Provide Many Benefits
Jades still provide many benefits for living entities. Because they have upper and lower incisors, they mow plants and cause them to regrow as they graze.
Since the digestive system does not disturb the structure of the plant it eats, it supports the reproduction of the seeds. By breaking the ice of frozen ponds, it provides a positive support to biodiversity by allowing smaller animals to drink water, and the living creatures inside benefiting from the outside. 
Yilki Horses are Very Resistant to Natural Conditions
When they are let loose by their owners, they no longer have hay, barley or a warm barn in front of them. They try to survive by digging the snow with their feet and eating the grass they pull out. Jades are very resistant to natural conditions.
Jades always stand, we always see them standing. They even stand and walk without going to bed for weeks. Scientific research has revealed that horses spend less energy standing.
Because of the size of his body, he cannot breathe easily when they lie down. He locks his knees to stay standing. He does not move while resting, his breathing is reduced, his eyes are closed.
He can walk for a day without drinking water. They have developed intuition. He immediately senses the danger and takes precautions.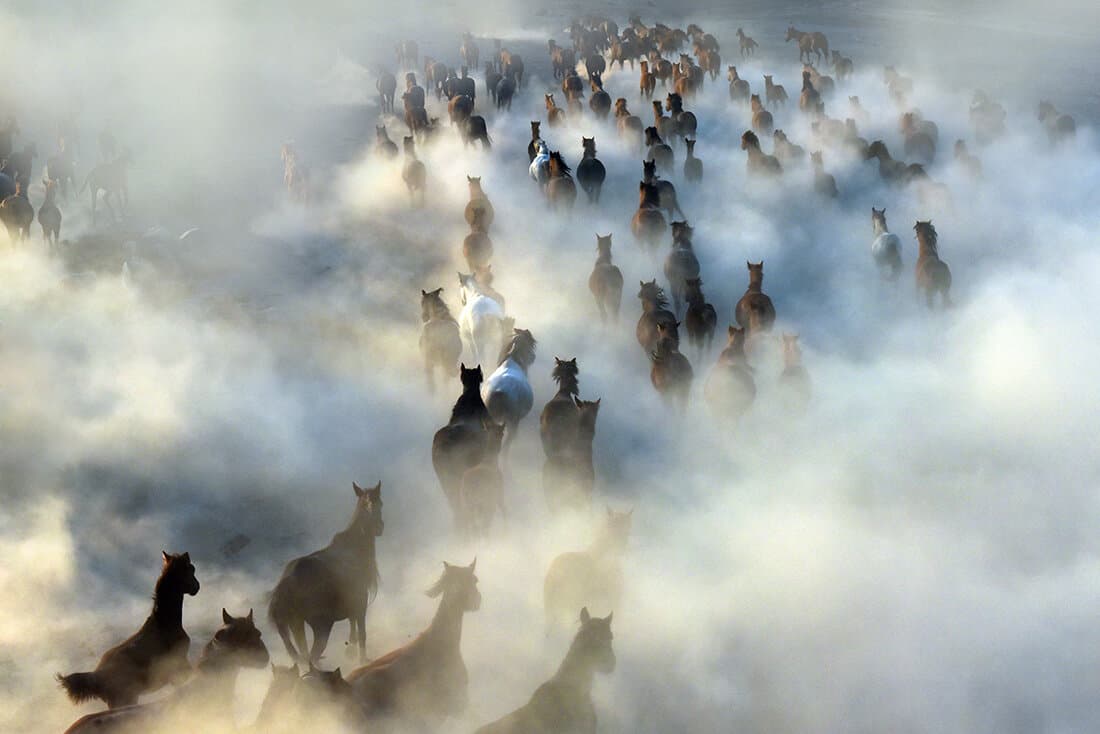 Yilki Horses are the Runners of the Hard Life
Jades are the runners of a difficult life. They live in difficult conditions. Jades are desperately struggling to survive on their own. They are survivors. The rebellious and free-spirited horses of the year experience the pain of abandonment and at the same time the joy of being free.
Working Horses Excluded
Equestrian tradition dating back to the Mongol Empire was practiced in Turkey. Working horses spent the spring, summer and autumn at home. Working horses, abandoned before the winter started and left outside the door, would struggle to survive in the winter by searching for food on their own. With the onset of spring, the farmers would gather these horses again for the new season. 
With the development of industry and agriculture, when the farmers replaced the horses and plows with tractors, they no longer needed horses. The villagers preferred to save money by releasing the costly horses instead of feeding them during the winter. Nor did they need to collect the abandoned horses in the spring. Abandoned to the mountain, these horses began to live untamed over the following years.
Yilki Horses are Not Wild Animals
For this reason, jades cannot be considered as wild animals. Fighting against winter conditions, jades adapt to the environment, environment and conditions. 
Yilki Horses Acquire the Ability to Survive in Difficult Conditions
Jades, which dominate their bodies and adapt to overcome the winter conditions, are not a part of the wild life, and gain the ability to live on their own against all kinds of difficult conditions. 
In Turkey, Yilki Horses Are Not Wild Horses Born in Nature
Jades in Turkey are not wild horses born and bred in nature. Jades are generally old working horses that have been abandoned by their owners. For this reason, the herds of horses that were once abandoned after working were called "jade", meaning to be released into the wild.
These Anatolian horses, which have been carrying people for more than 5,000 years, pulling their carriages and managing farming, and have been domesticated for more than 1000 years, were not domesticated in a short time. 
Yilki Horses Come in a Variety of Sizes, Colors and Variety
Jades have the characteristics of different types of horses brought by merchants and rulers for centuries. It shows the characteristics of horse breeds such as Arabian and Mongolian. Jades are therefore very different with a variety of size and color. 
Yilki Horses Live in the Wild
Today, jades live in wildlife and can be seen in different parts of Turkey. 
In some regions, jades that have been living in nature for centuries are mostly seen in the Cappadocia region, Kayseri Erciyes Mountain skirts, Manisa Spil Mountain and Yunt Mountain, Madenşehir, Muş, Dinek, Karacaören, Karaman, Üçkuyu and Karadağ villages, Afyonkarahisar, Akdağ, Kumalar Mountain, Emirdede Plateau, Samsun (Kızılırmak Delta), İzmir (Gediz Delta) ), Uşak, Antalya (Eynif Plain and Beydağları) provinces, Kaz Mountains and different regions of Turkey.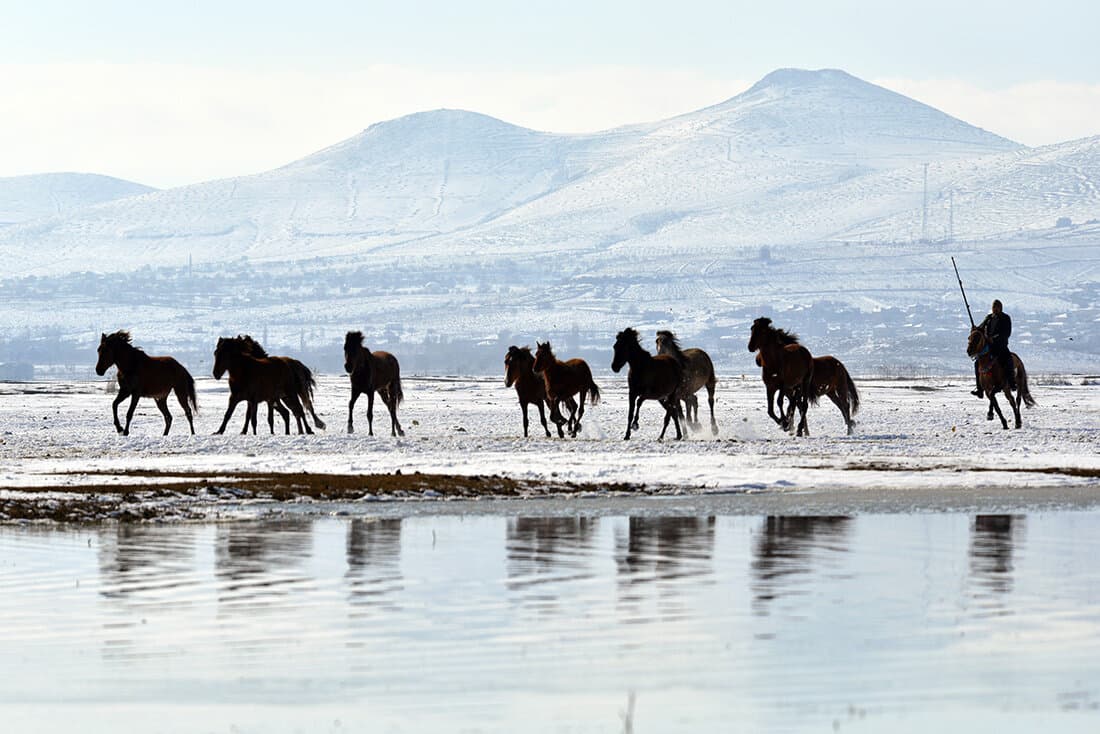 Yilki Horses Generously Present their Beauty to Humanity
Free-roaming wild horses generously offer their beauty to humanity, although their survival opportunities have become more difficult after industrialization and their numbers have dwindled. The brave and dashing horses, who started to live together in the wild, try to survive by supporting each other.
These intelligent animals, which roam in groups of tens and twenties, live in groups. The group consists of a male leader and mares. In these groups, offspring stay with their mothers, while other adult males are removed and form groups with horses excluded from other groups. 
Yilki Horses are Electing their Leaders
Yilki Horses choose one of them as the leader. The leader jade watches while his friends are drinking water, and when he senses danger, he warns by stamping his feet and neighing.
You immediately notice the leader. In front of the group, his eyes are wide open, his ears are to the sound, and when he senses danger, he leads the group and cooperates with other groups if necessary.
These groups can form large herds from 10-15 to 300 horses.
Yilki Horses are of Noble Blood
The Yilki Horses, which are located in areas close to water sources, are noble animals. Increasing environmental problems and pollution of water resources make life even more difficult for the horses.
Protection of natural shelters to support jades against winter months, leaving fodder to nature, protection projects against wolves, feed and hay aid are factors that save the future for these friends.
Man could not feed his best friend, his horse, which carried him on his back for 10 thousand years, for 50 years. At the first moment when he was no longer needed, his horses were thrown into the street as a free but ascetic.
Cappadocia, the Land of Beautiful Horses and the Magnificent Yilki Horses
Cappadocia got its name during the Persian period. Cappadocia, which means the Land of Beautiful Horses, adds beauty to the environment with its magnificent jades.
Cappadocia is a very different world with its nature, history, art and cultural works.
Geological studies say that Cappadocia was formed 60 million years ago from lava erupted by Erciyes, Güllüdağ and Hasandağı.
The written history of Cappadocia begins with the Hittites. One of the stops of the Silk Road, Assyria in Cappadocia and Phrygian Hittite Kingdoms dominated the region until the Persian invasion. 
Alexander the Great took the Persians out of Cappadocia, who gave the name Cappadocia, meaning 'Land of Beautiful Horses'. Since Christianity was forbidden during the Roman Empire, houses carved into the rocks, underground cities and churches were safe for Christians. Uçhisar Castle, Kaymaklı and Derinkuyu Underground Cities are the leading ones.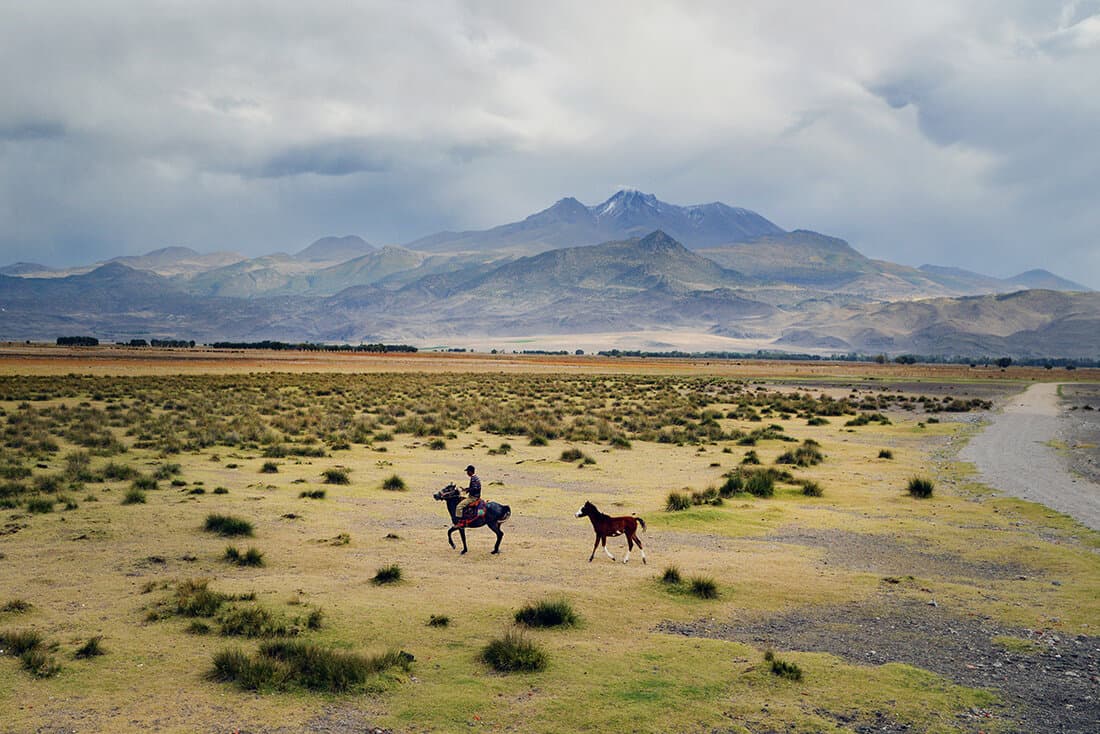 Cappadocia, the oldest permanent settlement in the world, was important during the Hittites, Phrygians, Persians, Romans, Byzantines, Seljuks and Ottomans.
Fairy chimneys, which are effective in defining Cappadocia as a fairy tale land, a wonderland, is densely populated around Avanos – Ürgüp – Uçhisar.
Fairy chimneys look very nice in the Love Valley in Göreme and in the Paşabağ Valley between Göreme and Avanos.
Cappadocia consists of Aksaray, Nevşehir, Niğde, Kırşehir and Kayseri. At the beginning of the places that can be visited in Cappadocia; Uçhisar, Göreme, Avanos, Ürgüp, Derinkuyu, Kaymaklı and Ihlara Valley, Zelve Open Air Museum, Underground Ceramics Museum, Özkonak Underground City, Priests Valley (Paşabağı), Güllüdere Valley, Kızılçukur Valley, Meskendir Valley and Çavuşin Church, John the Baptist Church, Love Valley, Göreme Open Air Museum, Girls and Boys Monastery, St. Basil's Chapel, Elmalı Church, St. Barbara Chapel, St. Catherine's Chapel, Yılanlı Church, Dark Church, Çarıklı Church and Tokalı Church. Besides these; Uçhisar Castle, Güvercinlik Valley, Temenni Hill, Gomeda Valley, Ortahisar Castle, Ihlara Valley, Ağaçaltı, Sümbüllü, Yılanlı, Kokar, Prenliseki, Eğritaş, Direkli, Saint Georgeus, Karagedik, Ala, Bezirhane, Bahattin Samanlığı and Batkın Church, Derinkuyu Underground City, Özkonak Underground City, Kaymaklı Underground City, the World's Largest Historical Park can be visited and magnificent photographs can be taken.
Yilki Horses are not Exclusive Found in Cappadoccia
Jades are not unique to Cappadocia. Jades have been living in the middle of Anatolia for ages. Cappadocia offers very important opportunities to those who love nature and horses.
Clay tablets from 1500 BC describe horse breeding and love for horses in Cappadocia. Strangely enough, the Anatolian horse takes the place of the vehicles that replace the horses.
Yilki Horses in the Heart of Anatolia with Their Majesty
It is an excellent chance to view nearly 300 jades in the heart of Anatolia with their majesty as if they were shooting a movie or a documentary.
Jades can also transport tourists to places that are difficult to navigate by car. Interest in authentic horseback tours is increasing in Cappadocia. Tourists enjoy being alone with nature. They live peacefully away from the crowds and suffocation of the modern world.
Cappadocia, with its wide and magnificent nature, and activities such as hiking trails and bicycle tours, provide the opportunity to see and get to know the environment better.
Horse excursions were added to these activities with the inspiration of the annual horses. A private farm has about 400 jades. 
Get Ready to Capture Perfection for Jades Photos
Get ready to capture the perfection for stunning jade horses photos. You can take the most beautiful images of jade horses and watch the Central Asian traditions in Avanos. Local people wearing traditional clothes in the magnificent atmosphere of Salt Lake show you their wonderful hosts.
Yilki Horses Have Unknown Traits
Cappadocia has stunning views in every season. Along with professional, inspiring and eye-opening expert photographers and guides, you can see the unknown features of the jade horses.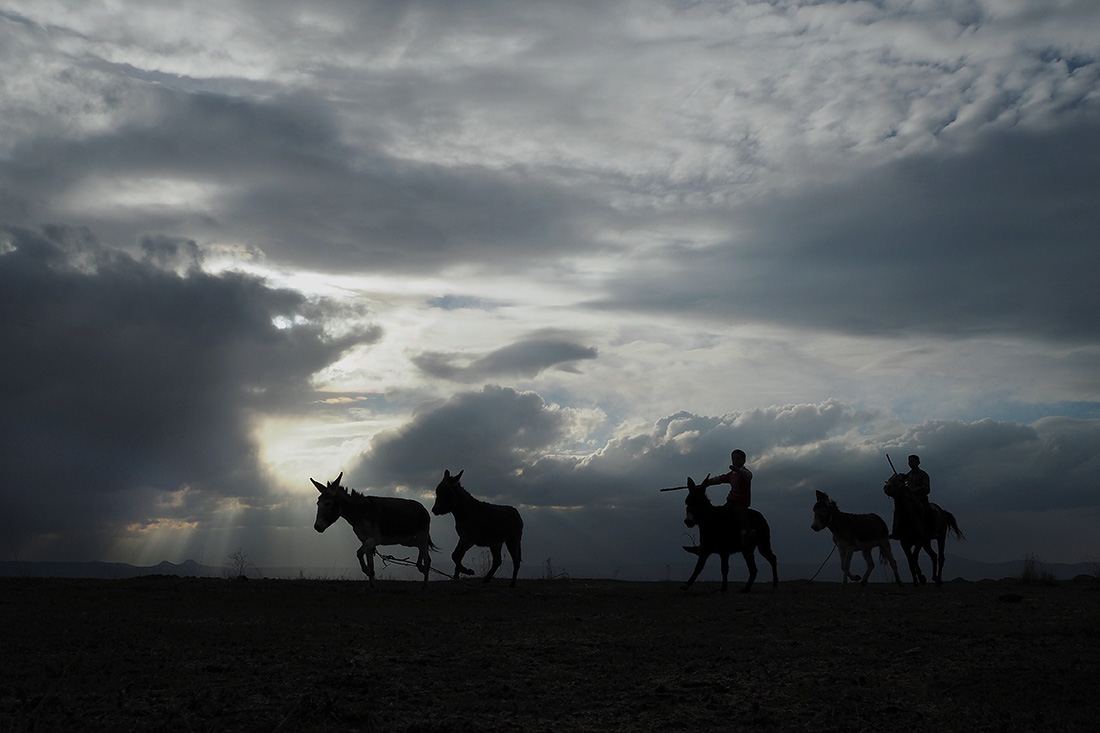 Watch the resital of Jades
You can take pictures of jades in the water at sunset, at sunrise in the morning, and watch the recital presented by galloping horses. You will have great pleasure in shooting the pictures of the horses of the year.
Cappadocia is mushroomed with lots of Fairy Chimneys. It resembles a wonderland with its white mountains in winter.
In 1985, UNESCO declared this magnificent open-air museum a world heritage site.
Yilki Horses Running Among the Fairy Chimneys Are Breathtaking
Even watching the balloons take off in the valley is as exciting as riding a balloon. The bird's eye view of the fairy chimneys in the sky and the wild horses running among them will take your breath away. You will take your audience's breath away with the pictures of jades you have taken.
Staying in caves used as hotels, where people can still live, is an opportunity you won't experience anywhere else.
You Can Take Photo Album of Jades
If you stay here for 2 days, you can take a photo album of jade horses. You will not be surprised that Cappadocia is called the land of beautiful horses.
If you take one of the balloons rising from Göreme, one of the beautiful valleys of Cappadocia, you may see the graceful jade horses from the sky, and you can return to your home with a wealth of pictures of jade horses.
As the interest in horse riding increased in Cappadocia, the annual horses began to arouse interest. There has been an increase in tourism in recent years.
Yilki Horses Revitalize the Cappadocia Economy
Jades have provided the revival of the Cappadocia economy for centuries. Persians used animals as money. The Romans took them to their country for chariot racing. Tourists love horseback riding, which has given locals a way to earn a living.
Awareness Raises for Yilki Horses
For thousands of years only a few people knew about the jade horses. Today, thanks to photography enthusiasts, horse friends, environmentalists and animal friends, everyone is aware of the free and wild wild horses of Anatolia.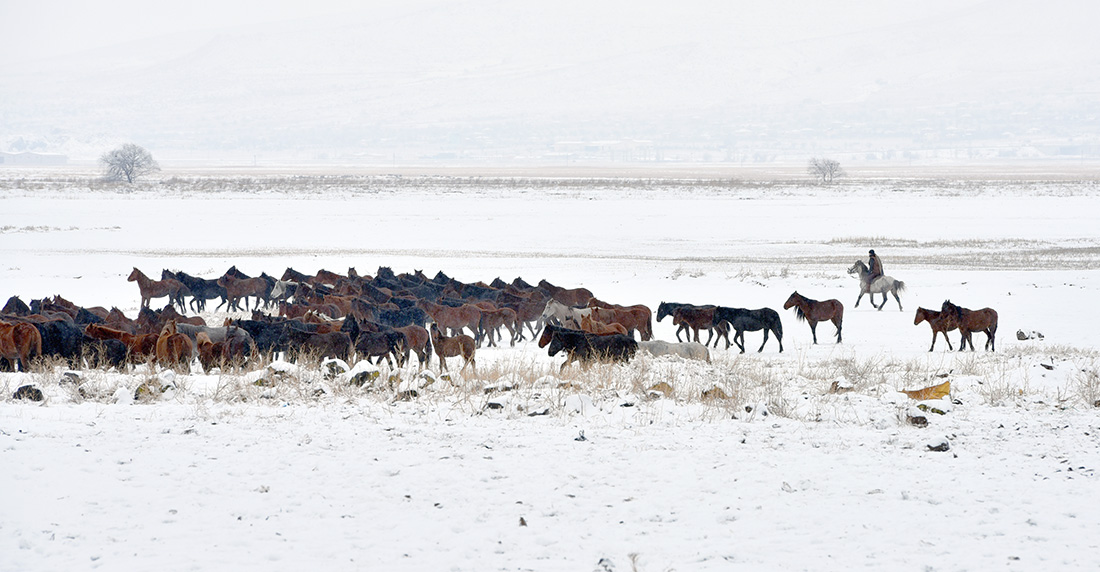 The Cappadocia Horses Run Freely on the Skirts of Erciyes
At the foot of Mount Erciyes, Turkey's second highest peak, which is an extinct volcano, the jade horses run freely.
Here you will not only admire the jade horses and its splendor, but also the magnificent geography.
At the foot of Erciyes, which is an extinct volcano, the jade horses are noticed from the dust clouds rising into the sky. At the foot of the mountain, the jade horses roam freely and live.
Jade horses can be seen together in the plains around Erciyes Mountain, much more than in other parts. 
Wild Horses Cappadocia are the Free Children of Erciyes 
These free children of Erciyes, the jade horses, spend their days in constant struggle for life, against dust in the summer, snow in the winter and rain in the spring. 
The Wild Horses Running on Water Are Exciting
It is as if the opportunity to take pictures of the jade horses in another area right next to Cappadocia has been found as treasure. The land of beautiful horses and Turkey's extinct volcano Erciyes, running on the water at the foot of the mountain, these jade horses are exciting, probably conquering the hearts of photographers. You can bring the hearts of those who look at this album to their mouths with the pictures of the horses you took.
You Cant Watch Jade Documentary in Person
You can watch live the documentary "Jade Horses" that run freely on the skirts of Erciyes Mountain in the vicinity of Hörmetçi Village, which is 15 minutes away from Kayseri, and Sultan Marshes Bird Sanctuary, which is home to more than 400 plants and around 300 bird species, 70 kilometers from Kayseri. You can also prepare a documentary about the horses of the year.
Yilki Horses Can Travel 100 Km
Yilki horses, which are not a part of wildlife, can travel 100 km. Despite the harsh conditions in nature, they can live on their own. 
Feels Like Watching a Western Film by Holywood
Hundreds of horses running together, moving and heading towards you creates a whirlwind of excitement in your heart. You get the feeling of being inside a Hollywood cowboy movie on TV.
A herd of black, white, brown and ala colored hade horses are running and neighing. There are wild horses playing, competing, fighting with each other and sometimes baiting silently.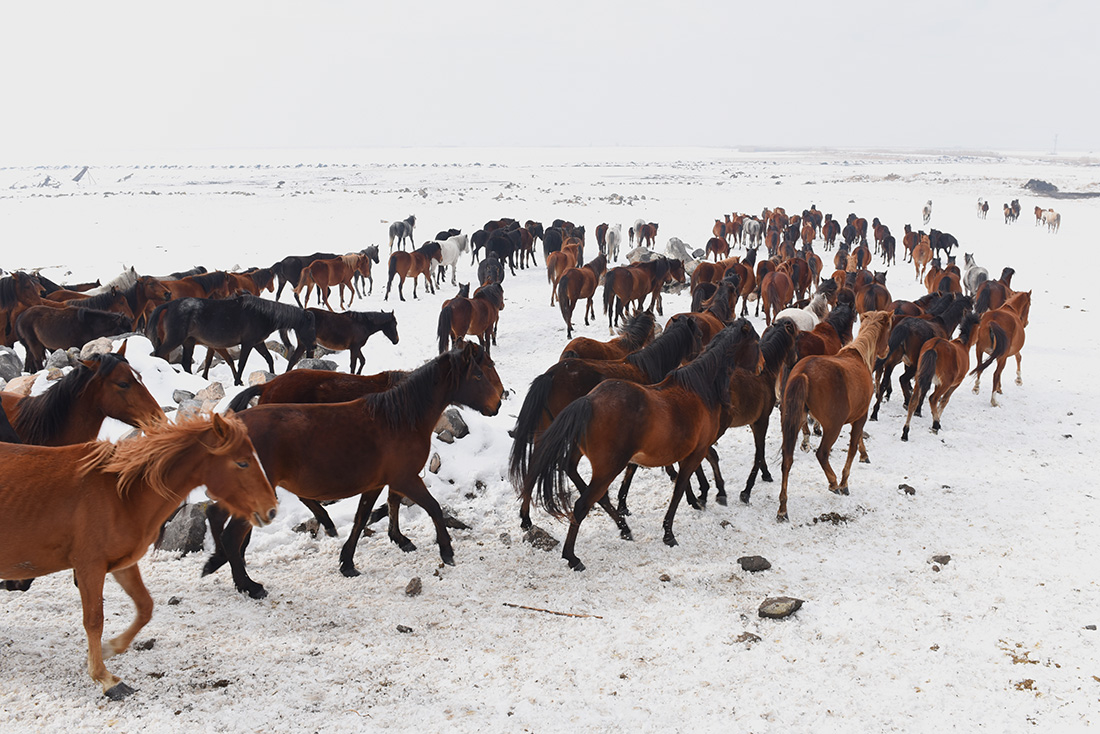 Yilki Horses Cowing Like Children
As their youngsters start running, jade horses also join them. As the sun goes down, the Cappadocia horses running like children in the pool in the creek present magnificent views with the legendary view of Erciyes behind them.
If you want to see the Turkey horses and see a magnificent geography, going near sunset and sunrise gives you a great photo opportunity.
Yilki Horses Pose
While you are getting ready to take a photo, the jade horses, which are prepared as if they are stepping on the podium as your fingers approach the shutter button, offer welcome poses by galloping, rearing, neighing, hopping, jumping. You think we found it nice with the pictures of the jade horses that you will take a lot.
There are Nearly 400 Jades in Kayseri
The number of Jade horses living in Kayseri is around 400. In the plains of Erciyes Mountain in Kayseri, there are groups that we can call the gang of the jagged horses.
Wild Horses Cappadocia Social Media Star
Especially after the shots of photographers and tourists in Kayseri and Cappadocia took place on social media and in different media, jade horses started to attract more attention. Very pleased with this interest, Yılkı horses have even managed to organize photography tours on their stages in recent years with the visual shows they offer to their guests.
Yilki Horses Wonderful Dances, Visual Shows
Even a Hollywood movie set wouldn't be this beautiful if you spend a huge amount of money. Here, the atmosphere, the environment, the venues, the jade horses and their wonderful dances and visual shows are worth seeing. It offers great opportunities to take photos. 
Yilki Horses Bride Groom Photos
One of the important stations of foreign tourists after photographers, yilki horses have even started to be a place for bride and groom photos. Jade horses have now become important actors for bride and groom photos.
Photographers, wildlife enthusiasts, foreign tourists, and social media have played an important role in promoting jade horses.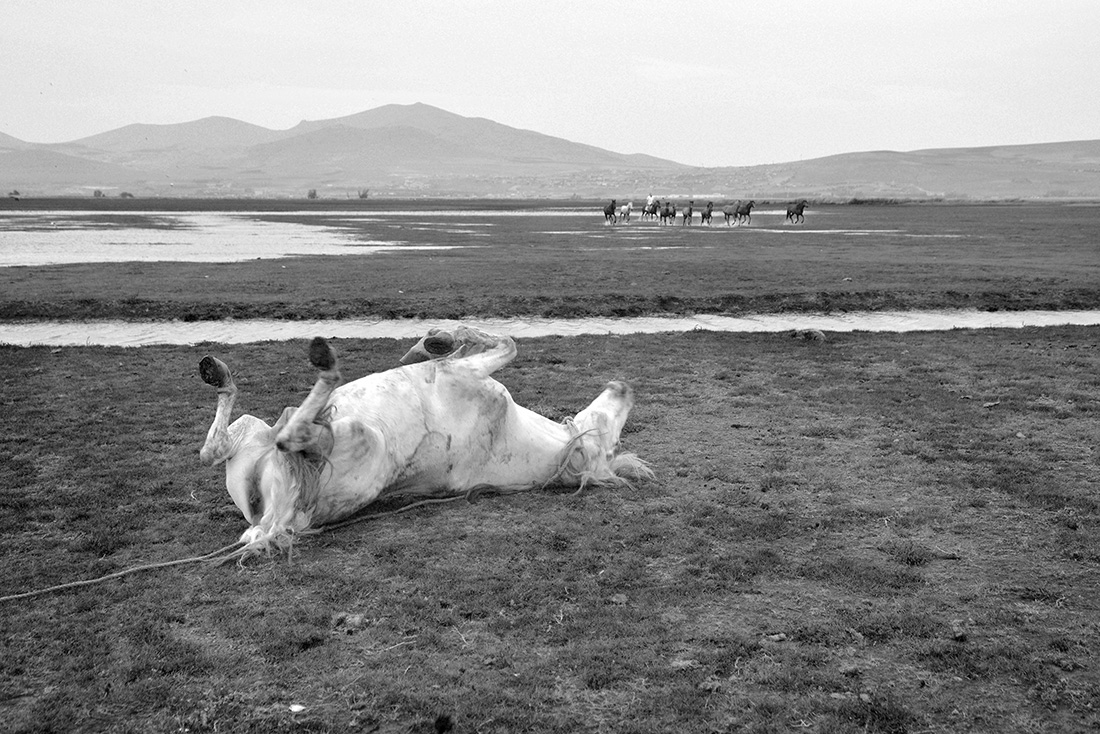 Yilki don't Harm People
Jade horses generally do not harm people, although they are very difficult to tame. There is a horse breeder family in the Hörmetçi Village, which takes special care of the annual horses known as untamed horses.
Providing their Indigenous Lifestyle for Jade Horses
This family, which owns around 400 horses, leaves hay for their jade horses in the winter season and calls a veterinarian when necessary. He provides protection for his horses as much as he can, he tries to provide the lifestyle they are used to for his horses. 
Yilki Horses Cannot Be Controlled, Ridden
Yilki horses are harmless, although familiar to humans, they are not domesticated, they cannot be controlled or ridden. Jade horses are spread across the plains. Jade horses in Kayseri, which are together in the summer, are divided into different groups when everything is covered with snow in the winter. This gives them an advantage.
In winter, as the sun sets, the color of the sky alternates between red and orange, while jade horses return to the areas where they can find food and drink water.
Support to Protect Yilki Horses
Jade horses can only be watched, photographed or filmed. You provide support to protect the annual horses as much as you can.
You notice their familiar, sincere and cautious gaze, and you watch with admiration his effort to gather his mares to be careful when you get too close to them. With these admiring glances, you can notice the traces of the civilizations they lived in and the thousands of years that passed over them.
When you get on a horse and look at the area between your two ears like a camera's viewfinder, you can grasp how precious freedom is, why the jade horses endure all the hard life ordeals, and how they run on the plains in the mountains.
Yilki Horses Run To The Sky As If Flying
Happy horse, happy human… happy jade horses shake their heads on the grass, drop them, then stare at the horizon for a moment, then run to the sky as if flying. He smiles, shows his teeth, speaks with his lips, communicates with his head up, his straight neck that does not bend.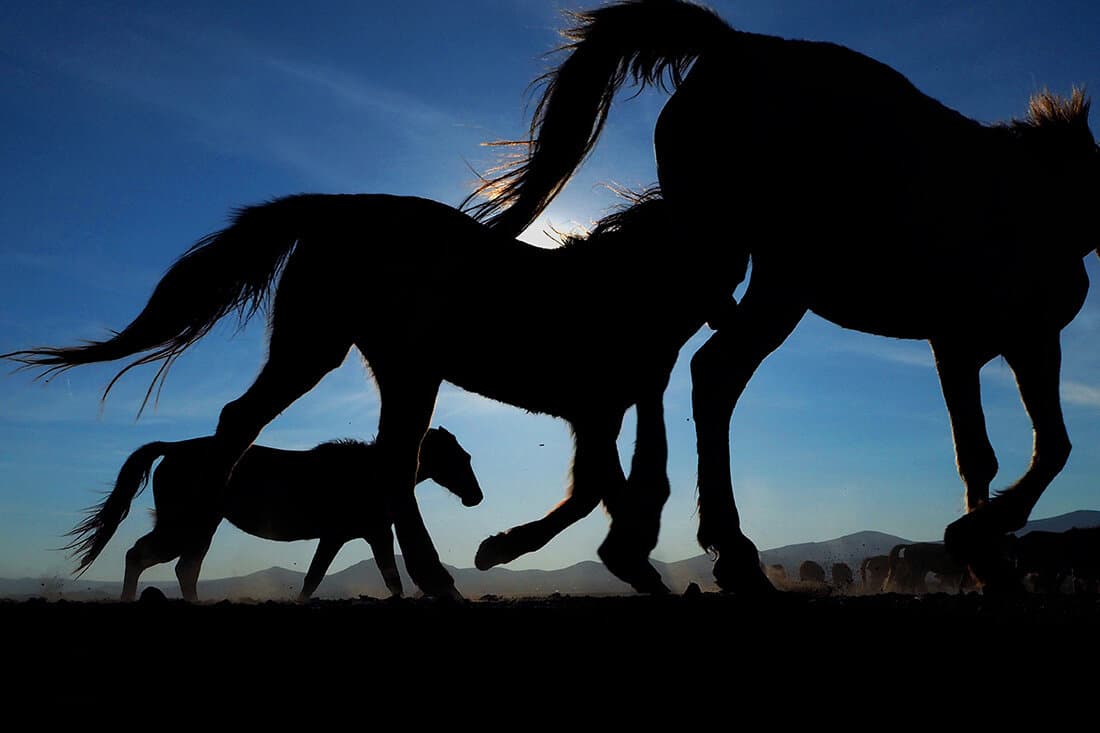 The Population of Yilki Horses Has Increased Over The Years
The population of Jade horses has increased over the years. There are not many predators that will directly hunt the Jade horses. Since wolves can hunt a few baby colts or old annuals, they can reproduce a little. Researchers state that the annual population of the jade horses has a growth rate of close to 20%.
There are jade horses in other countries of the world: Mongolia, America, Australia.
You will be very surprised when you hear in a document dated 1857 that jade horses have holidays once a week, that they are not allowed to work on Fridays, that those who overburden and torment them were punished, and that Çiftlik Horse-Humayun and Zoo Centers were established in the Ottoman period.
300 Yilki Horses Live in the Kizilirmak Delta
Nearly 300 jade horses live in the Kızılırmak Delta, which is on the UNESCO World Heritage Tentative List. It offers astonishing visuals to visitors, photographers and tourists with its abundant wildlife.
The delta is visited by 60 thousand tourists annually. In this piece of nature, which impresses with its beauty in every season, the jade horses can be watched from afar.
Guests who insist on following can see the jade horses up close. Photographers who come to take pictures of jade horses take pictures throughout the day.
Very rich visual shows for the professional photographers and tourists who come to Cappadocia and Kayseri to take pictures of the jade horses continue unabated. Those who come here finish one of the opportunities to shoot for their albums on very different subjects and start one. Many of these opportunities are intertwined. 
Cappadocia, Center of Pottery and Handicrafts
It has been the center of pottery and handicrafts since the Hittite period, starting from 2000 BC, on the banks of Turkey's longest river, Kızılırmak. In more than 500 workshops, the craft is passed on to future generations and introduced to photographers and tourists. 
Sultan Marshes Are A Real Bird Habitat
Besides horses, your second favorite activity can be bird watching. Sultan Marshes are a true bird paradise. There are about 400 bird species. The park is very suitable for birders as well as birds, with footpaths and observation booths at key locations.
Filled with seasonal rains, the reeds were defined as a wetland of international importance by the Ramsar Convention in 2004.
The reed beds, which are also an important area for wildlife on the migration route from Europe, Asia and Africa, are the habitat of various bird species such as great egret, gray heron and small swan.
It is one of the ecosystems where fresh and salt water ecosystems are seen together. It is very valuable as it is the only place where cranes, flamingos, egrets and spoonbills nest in the European continent. It is the intersection of two large bird migration stations used by migratory birds between Africa-Europe-Asia.
It is also a great opportunity to be located next to two very close regions with Jade horses.
Photographers Follow Every Season for Jade Horses
Cappadocia horse photoshoot have been one of the interesting topics for tourism. Photographers follow the jade horses for photography and video footage. Running on the snow-covered plains in winter, the horses in Turkey fascinate with their harmonious movements and galloping like a single horse.
Yilki Horses Are One of the Actors of Literature
With his stories of existence and survival, jades have become one of the actors of literature with Abbas Sayar.
Horse photography workshops  aroused the curiosity of photographers as well as those who want to know the world of free horses. 
There is a Yilki Horse Adoption Program in the USA
There is an annual jade horse adoption program in America. Adoption of these horses is encouraged. In Turkey, the number of horse farms, horse riding, horse care, horse rentals are increasing. 
Yilki Horses Gallop from Green Plains to Blue Sky
Despite everything, the jade horses continue galloping freely from green plains to blue skies and fields of clouds like white cotton, as freely as possible in a life full of struggle. 
tag: travel agency, turkish word, kayseri university, cappadocia photo tours, award winning photographer, nuri çorbacıoğlu, cloud of dust. Kayseri, Cappadocia, Turkey
Please visit Equine Photography Classes and Equine Photography Workshops 
Written by Nuri ÇORBACIOĞLU
E-mail:

[email protected]


Instagram: @nuricorbacioglu
WhatsApp: +90 505 469 33 59
Cumhuriyet Mah. Atatürk Blv. No: 70/4 Ürgüp
Nevşehir – Turkey

 

Equine photographer Nuri Corbacioglu is a specialist in this field.
He is known as Yilki horses photographer and is one of Turkey's most well-known photographers in the wild horse genre.